Ningxia is een struik, of gecultiveerd als een grote struik door kunstmatige snoei, 0.8-2 meter hoog. De diameter van de stengeldiameter is 10-20 cm. De takken zijn goed en dicht. De takken buigen en de overkapping is meestal rond, met verticale ribben, grijsachtig of grijsgeel, kaal en licht glanzend, met kale korte doornen en bladeren, bloemen met lange doornen. Bladeren afwisselend of geclusterd, lancetvormig of langwerpig lancetvormig, apex kort acuminate of cuspidate, basis cuneate, 2-3 cm lang, 4-6 mm breed, 12 cm lang wanneer gecultiveerd, 1.5-2 cm breed, licht vlezig, aderen zijn niet voor de hand liggend.

Op de lange scheuten werden 1-2 individuen geboren in bladoksels, 2-6 op een korte scheut, geclusterd met bladeren; steeltjes 1-2 cm lang, geleidelijk verdikt naar de punt toe. Calyx campanulaat, 4-5 mm lang, meestal 2-lobbig, lobben met kleine punten of punt 2-3 tanden; corolla trechtervormig, paars-paars van kleur, buislengte 8-10 mm, geleidelijk omhoog uitbreidend vanaf het onderste deel, duidelijk langer dan jukbeenkwabben, lobben 5-6 mm lang, eivormig, apicaal afgerond, basisuratrice, margin margin ciliaat, bloemen openen vlak bij het uitspreiden; meeldraad filamenten iets boven de basis en corolla buiswand dicht velvet; De stijl is als een meeldraad, met de corolla lob die zich enigszins uitstrekt om zijn bloemkroon te verlengen.

De bes is rood of oranje in het cultivatietype. De schil is vlezig en sappig. De vorm en de grootte van de bes zijn gevarieerd vanwege langdurige kunstmatige teelt of de ouderdom en leefomgeving van de plant. De ellipsvormige vorm is langwerpig, langwerpig, eivormig of bijna bolvormig. Heeft een korte puntige of afgeknotte, soms licht concave, 8-20 mm lange, 5-10 mm diameter. Zaden vaak meer dan 20 korrels, enigszins gevormd in een nier, platte druk, bruingeel, ongeveer 2 mm lang. De periode van bloemen en vruchten is langer, meestal van mei tot oktober, met het resultaat van de bloei. Wanneer het fruit wordt geplukt, wordt een partij rijp fruit geplukt.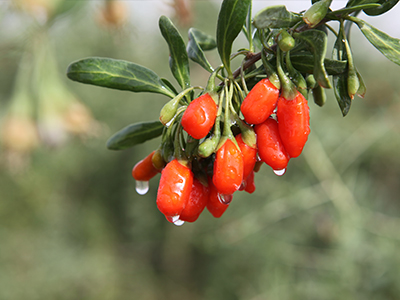 Product Categorie : Rode Wolfberry > Bulk Goji-bes